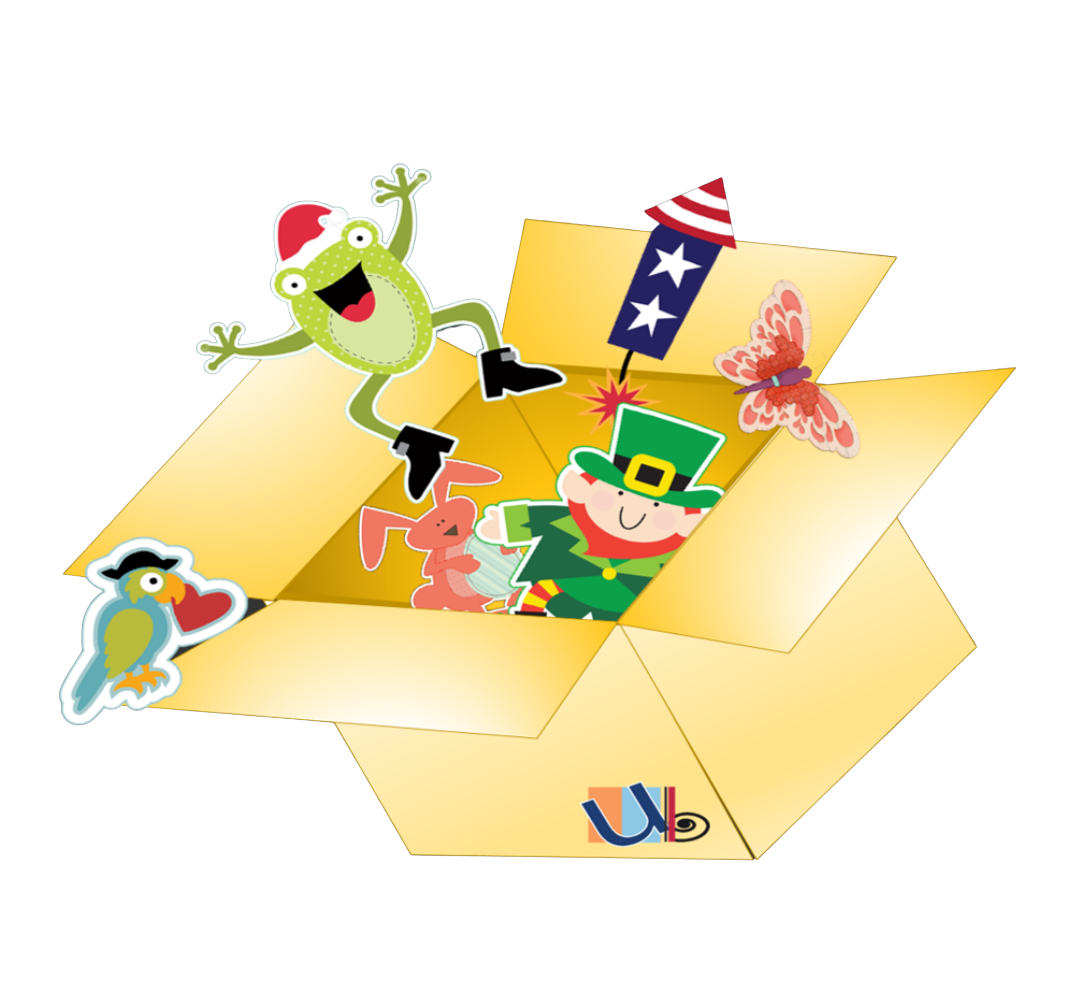 First Box ships within 2 Weeks - Renewals occur on the 10th of the month
Many of us know about Christmas, Halloween, Easter, and even Ground Hog Day…but have you ever heard of Twilight Zone Day, Hug your Cat Day, or even Root Canal Day???
There are so many causes for celebration almost every day of the year!
Your Unboxing the Bizarre ™ box comes filled with items to celebrate the wild, wacky, and just downright bizarre holidays that don't get the mainstream attention that they deserve. 8 types of Boxes to choose from!


Get Yours or Gift Yours TODAY!
you will receive a box of fun! Choose from 8 different types of boxes based on the weird, wacky, and offbeat holidays.
First Box ships within 2 weeks. Renewals happen on the 10th of each month and ship at the end of the month.
Open and enjoy the fun!!!
Need more reasons to sign up?
1) Who doesn't love to have a reason to invite friends over and have a party?
2) We all love surprises! 3) Your friends, family, and coworkers will love you for thinking of them!
If you sign up for a 12 month commitment, you get a box FREE!!! (*Discount equivalent to a free box)
And of Course we think we're pretty nifty, but don't take it from us - see what our subscribers are saying...
/** * @var $module \Ucraft\Module */ ?>
Josh R.

Highly Recommended
Feb 02, 2022
★★★★★

Verified Purchase
My whole family loves this box. The items are always so unique, surprising, and of such high quality. We really look forward to it arriving each month.

Michele D.

Like getting presents every month!
May 07, 2021
★★★★★

Verified Purchase
Tons of fun and so unique. I've purchased several of UB's different subscription boxes over the last 2 years and feel like you can't go wrong with whichever ones you might pick. Fabulous customer service and variety of unique content keeps me coming back for more UB every month.

Megan H.

Fun and functional!
May 08, 2021
★★★★★

Verified Purchase
Got my first box and am in love. Gives me some fun offbeat things to share with my kids, family and friends. The items were fun and functional!

Juliana J.

Bibliotheca is fantastic!
Dec 16, 2020
★★★★★

Verified Purchase
I LOVE Bibliotheca! I received it today and it was dragon themed! I received some gorgeous dragon magnets, a statue, and a VERY highly rated book on Goodreads (fantasy about dragons). Definitely will be keeping this sub!!

Denise D.

Great fun and useable products!
Mar 02, 2020
★★★★★

Verified Purchase
This was so much fun! I opened this with family and we tried to guess the holiday based on the items, before reading the product card. Very happy with this subscription and excited for the next one!

Jacqueline F.

I love this company!!!
May 07, 2021
★★★★★

Verified Purchase
We were very happy with our peculiar pet box. We got a roll up dog bed that's furry on one side and waterproof on the other, a stuffed rhino, treats, and a wooden sign for me. I've been buying different boxes from UB for almost 2 years. I get multiple boxes every month. They have outstanding customer service and all their different boxes are a ton of fun. I highly recommend them. I guarantee you'll get no other box like it.

Iram A.

Excellent customer service!
Aug 09, 2022
★★★★★

Verified Purchase
The box is good but their customer service is top notch. I had some confusion when I initially ordered. Not only that they did reply very quickly but also solved the issue and even gave me a discount that I had not applied myself while ordering. The reason for that was that the platform was not letting me apply the discount.
Then I got charged with considerable customs amount on one of the boxes by Customs Canada. They took care of all of that with no hassle to me and the matter was dealt with swiftly.
The best customer service that I have encountered...

Kathy S.

Great Box
Apr 07, 2021
★★★★★

Verified Purchase
April's Box was wonderful. We are celebrating International Jazz Day and we received a book about Duke Ellington, Coasters that are made of Vinyl, and a Lamp shaped as a Saxophone. This is a fun box of holidays I have never heard of and books I have nor read.

Jenna B

So much fun!
Feb 28, 2022
★★★★★

Verified Purchase
This box has so many unique and fun items! I look forward to receiving them every month and reading what the unique holidays are about!

Heather G

So comfortable!
Jun 20, 2022
★★★★★

Verified Purchase
Love the designs and it is soooo comfortable!

Michele D.

My most favorite book box
May 07, 2021
★★★★★

Verified Purchase
I am obsessed with book boxes and this is my favorite. I have been a subscriber to multiple boxes for almost 2 years and have about 40 of their Bibliotheca boxes so far. I get anywhere from 1-3 boxes per month. Adult, YA unisex, and YA girl. Why? because of FOMO...lol. These boxes are so much fun and the books are always highly rated on Goodreads. Customer service is also fantastic. This is one subscription I won't give up!

Linda M.

Cat play tubes
Jul 14, 2022
★★★★★

Verified Purchase
My cat is in love with the Tubes! Wonderful, just Wonderful!

Patricia S.

Fun box!
Dec 10, 2021
★★★★★

Verified Purchase
Super fun socks!

Taylor B.

Fun!
Sep 03, 2020
★★★★★

Verified Purchase
This is a fun box! I love that there has been a non-jewelry item in the box along with the jewelry items. This is a good one!
Note about terms:
By subscribing you are entering into a contract for a recurring monthly payment. Your method of payment will be billed each month until you cancel and your term is over.  3, 6, and 12 month subscriptions have built in discounts and are commitment terms. The 12 month commitment equals the equivalent of 1 free box. If you choose a 3, 6, or 12 month plan, you are agreeing to a commitment contract for the discounted rate; as such, you will be billed at the monthly price each month for the number of months selected. If you cancel before your commitment term has completed, you will continue to be billed monthly for, and receive the remaining boxes for the remainder of your term. The cancellation will take effect on your renewal date (i.e. a 12 month commitment cancelled after 8 months will continue to receive 4 more boxes which will be charged at the monthly price for the next 4 months; on the renewal at 12 months, the cancellation will go into effect).