FREE US SHIPPING! $10 off 1st box on 3 & 6 month multi-month commitment plans! CODE: WOW10 
First Box ships within 2 Weeks - Renewals occur on the 10th of the month
Yes, we are just as Wild and Wacky as our Site!
We're the Olbert's - a clan of 3 just livin' life to the fullest, enjoying every moment, and having fun!
Don't be a Stranger - we love to talk to people and would love to hear from you!
email us at olbertenterprises@gmail.com or connect with us on social media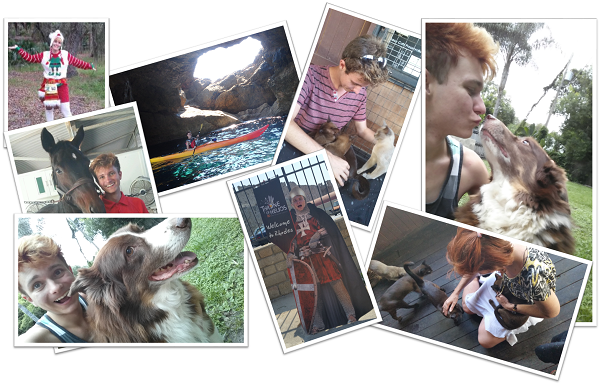 We just love to have Fun!
Whether it is visiting a cat sanctuary in Myanmar (Burma), hiking on glaciers, visiting cathedrals and castles in Europe, roaming catacombs in Rome, ballooning over Bagan, touring the World's Fair in Milan, hiking on an active volcano in Costa Rica, participating in themed 5Ks, riding in the NYC 5 borough bike ride, or feeding Iguanas in Honduras - our motto is enjoy, slow down, just have fun!
This is why we came up with the idea of celebrating the offbeat holidays. We have seen so many different traditions and participated in many celebrations in the villages, towns, and cities that we have traveled to. In all of those celebrations, there was camaraderie, laughter, and uniqueness.
I love that these non-mainstream holidays seem to have stemmed from a bygone era in some cases, where reflection, family, and community were the standard. Many of these holidays are regional and are well known in that area - but if you are just a town or two over, you may not even know they are celebrated, let alone even existed.
We hope that Unboxing the Bizarre ™ will help you rekindle relationships, enjoy the moment, and just have fun!
From our family to Yours - Bizarre is GOOD!
Share the weirdest, wackiest, and wildest things you have done #unboxingbizarre
Philanthropy
We believe very much in the philosophies of giving and paying it forward. We have seen first hand how giving time and money helps so many lives both here at home, and around the world; not just people, but animals too. We have built playgrounds and homes, handed out supplies to school children, packed bags of food for families, donated inventory for charity events, and made monetary donations to many causes. We will continue to give and do what we can, for our community and those in need!
We have partnered with Stripe Climate. Each purchase gives back a percentage for carbon removal projects. Learn more here.